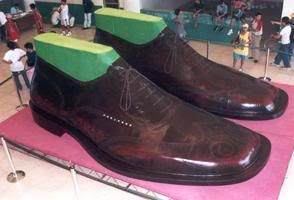 Marikina City owns the distinction of having crafted the world's largest pair of shoes, each measuring 5.29 meters long, 2.37 meters wide and 1.83 meters high. The heel alone measures 41 centimeters or 16 inches. The P2-million shoes can reportedly fit to a 37.5-meter or 125-foot giant. Around 30 people could put their feet into the colossal shoes simultaneously.

The world's largest shoes were made from materials that could produce about 250 pairs of regular-sized shoes. It reportedly took 10 shoemakers, led by Ernesto Leano, 77 days to cut 30 square meters of leather for the upper lining and 7.4 square meters for the socklining. Also used were 250 kilograms of vegetable tanned leather for the insole, 270 kilograms for the outsole, 80 kilograms for the welt, 225 kilograms of adhesive and 1,000 meters of thread for 200,000 stitches.

The Marikina-made shoes broke the old record of 3.12-meter shoes made by Zahit Okurlar of Konya, Turkey. A representative of the Guinness Book of World Records attended the First Sapatero Festival on October 21, 2002 where the giant shoes were displayed.

In December 2002, the Guinness Book of World Records has recognized Marikina City for crafting the world's largest pair of shoes.